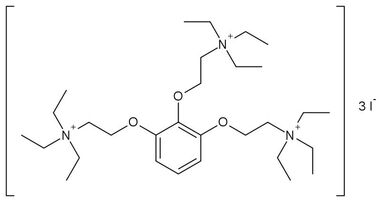 UNDER CONSTRUCTION. This article is a stub.
Gallamine triethiodide is the first synthetic (nondepolarizing) neuromuscular blocking agent ever made. It was developed in 1947 by Daniel Bovet, who won a nobel prize partly for his study of neuromuscular blocking agents. It has a long duration and plenty of side effects. It raises heart rate and can also do histamine release at high doses. But still, it was the first one ever.
Its chemical structure is derived from pyrogallol (which is derived from gallic acid), hence the name gallamine.
Technically succinylcholine was discovered before gallamine and synthesized in 1911, but it wasn't really known to have neuromuscular blocking properties until 1949.
Is it just me or does gallamine look almost exactly like this: (at least the times when there's only 3 arms)